Moline High School
Class Of 1962
REMINDER!
Check out "Remember When" now and then. As pictures from our school daze come in they are put on this page. Most recent pictures are at the bottom of the page, so remember to scan down to the end.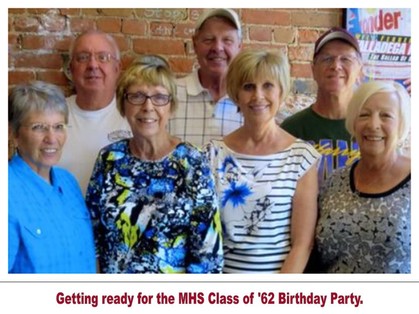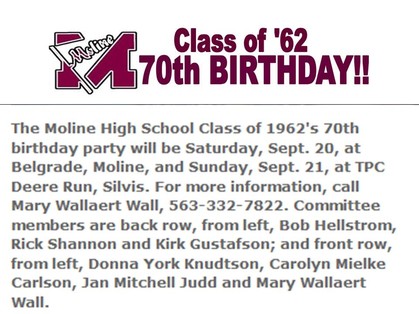 Saturday, 20 September: Party at Belgrade starting at 5:30 PM 'til ??
2431 - 16th Street, Moline
Food, drinks, music and fun available!!!
$5 per person at the door. Cash bar.
Sunday, 21 September: Breakfast Buffet at TPC Deere Run
at 10:00 AM
3100 Heather Knoll, Silvis, IL
$15 per person at the door.
PLEASE LET MARY (WALLAERT) WALL KNOW IF YOU PLAN TO COME!
RSVP Mary at either 563-332-7822 (phone)
or by email at grwall@mchsi.com
before 1 September so the committee can plan for the number who will be there.
THANKS EVERYONE AND HOPE TO SEE YOU IN SEPTEMBER!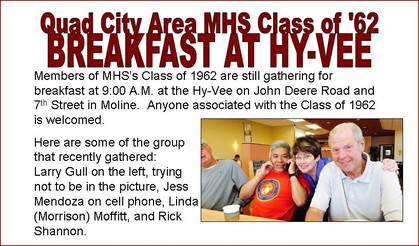 Do you know why our athletic teams were (and still are) called the "Maroons"? Check Moline High School for the answer.

You can also Take a Tour of Moline High School ... fifty years later!
Please look over the list of classmates. If anyone is missing, use the
Contact Us
tab to let us know. If you have some information about a fellow classmate that would affect their status in our site, please let us know that as well.
We hope you find this site to be useful and fun.

Suggestions are welcomed!