Moline High School
Class Of 1962
80th BIRTHDAY PARTY
Yes, we are that old!
Some have asked if plans are still in the works for our class 80th birthday party. And the answer is "YES" The committee has digested the information received from those of you who answered the survey that was on this site a couple of weeks ago and are gathering some information to finalize plans and develop a budget. Once that work is complete and the committee reviews the plan, the event details will be put on this website. In the meantime the dates for the birthday party and day-after breakfast are
Saturday/Sunday, September 14/15 2024
-------------------------------------------------------------------------------------------------------------
Why Wait?
A little while ago this website received a note from Jerry Soukup who observed that many of us write about good memories we've had involving someone on our website after they have passed away.
Jerry thought there should be a way to let people know we had those good memories before it was too late.
Well, this website provides a way to reach out to high school classmates and let them know that you remember a particular time or appreciate them being friendly to you or whatever. If that person is a member of this website all you have to do is …
Become a member of the Moline High School Class of 1962 website (It's easy. Just follow the instruction after clicking on "Join Here".) If you are already a member, then …

Sign In.

Click on "Classmates and Guest Members" in the left column.

Click on the name of the classmate you'd like to "talk" with.


(NOW THIS IS IMPORTANT --- If you know a classmate who is NOT a member and you you how to contact them otherwise, why not tell them about this site and encourage them to "Join"? That would enhance the website as not all of our classmates have joined.)

Write your comment in the "Post a Comment" by putting your cursor on "Share your thoughts …"

Remember to click on "Post Comment" when you are done.
Good idea, Jerry!
-------------------------------------------------------------------------------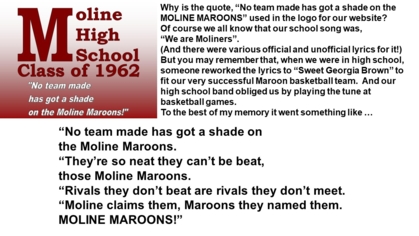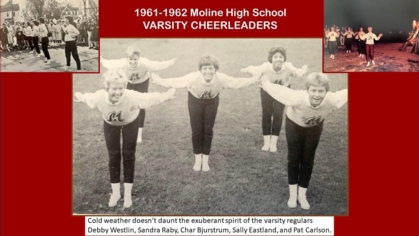 HELP US
We want to get more of our classmates signed up for this website!
If you know someone from our class that is not signed up, PLEASE tell them about it!
It's easy to sign up. Just follow the instruction on the website at
www.moline1962.com
We want to be able to pass on information about fellow classmates and planned class events.
So PLEASE help us by getting your friends who are not signed up to sign up.
Thank you!