Moline High School
Class Of 1962
In Memory
Kai G E Anderson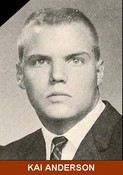 Kai's brother reported that Kai passed away Wednesday, 30 September 2009.
After high school, Kai played center on the University of Illinois football team and was their captain in the fall of 1966. He was drafted after his senior year by both the New York Giants of the NFL in the 18th round as a center and the Miami Dolphins of the AFL in the 11th round as a center.
Kai was married to Dianne G. Anderson and had a daughter, Kari Anderson. Kai retired in 2007. He lived in Danville, California, at the time of his death.
Kai's Obituary as it appeared in the Contra Costa Times:
Kai Anderson
Kai Grant Edwin Anderson Feb.18, 1944 - Sept. 30, 2009 Resident of Danville Kai was born in Moline, Illinois. He graduated from the University of Illinois where he was co-captain of the football team. Although he was drafted and signed with the Miami Dolphins, he felt that his future was in his home state. He married Dianne Gardner in 1968. After a successful start in the banking business in Chicago, Kai took a job with California Casualty Management Company as a District Sales Manager in San Diego. After the birth of their daughter Kari, they moved to Northern California where Kai joined the home office as Manager of the Business Insurance Division. Kai was elected President and CEO in 2004. He retired in 2007. Kai loved being outdoors, whether working in the yard with the dogs, fly fishing in Wyoming, or driving through beautiful country. He was a thoughtful father and husband, rarely missing one of Kari's sporting events and accompanying Dianne to marathons near and far. He is survived by his wife Dianne; daughter Kari; brother Clark; sisters-in-law Mary Anderson and Gay Wane; brother-in-law Don Gardner; mother-in-law Mary Berg; two nieces and one nephew. Donations in Kai's name can be made to the I FUND at the University of Illinois by contacting: c-tuttle@illinois.edu, Henry's Fork Foundation at
www.henrysfork.org
, and The Alta Bates Summit Comprehensive Cancer Center at
www.abssdn.org
. All are tax deductible. There will be a Celebration of Kai's Life on October 24 at 10:00 am at San Ramon Valley United Methodist Church in Alamo. A reception will follow and all are welcome. Wilson & Kratzer (925) 820-2999