Moline High School
Class Of 1962
In Memory
James A Cunningham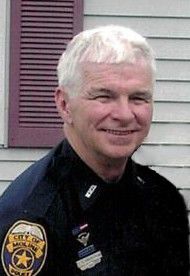 This is Jim's obituary that appeared on qconline.com
The soul of James A. Cunningham departed this earth on Wednesday, May 9, 2018. James was 74 years old and a native of Moline. Family and dear friends were with him when he transitioned from this world to be with God.
Visitation will be 1-4 p.m. Sunday at Rafferty Funeral Home, 2111 1st St. A, Moline. The funeral will begin at 10 a.m. Monday, May 14, 2018, at Faith Lutheran Church, Moline. Burial will be at Greenview Memorial Gardens, East Moline. A memorial fund has been established.
Jim was born July 22, 1943, in Moline, to Carl and Flo (Hobbs) Cunningham. He was the youngest of three siblings, all of which preceded him in death. In his journey through life, he married Wendy Warren on Sept. 20, 1996. Wendy and Jim were blessed with two daughters during their 22 years of marriage.
Jim graduated from Moline High School, where he distinguished himself as a gifted athlete. In 1961, Jim and five other members of the Moline Track Team finished first in the State of Illinois' one mile relays. He also excelled in football as a halfback on offense and a safety on defense. After high school, Jim attended Black Hawk College and graduated with an associate degree in criminal justice.
On May 16, 1966, Jim began his exemplary career as a Moline police officer. He served in the operations division, criminal investigations and juvenile crimes. In 1977, Jim was assigned to the Metropolitan Enforcement Group as Director of Covert Investigations. He served in this position until June of 1984. During his stewardship of MEG, the newly formed Drug Enforcement Agency inaugurated successful multi-jurisdictional investigations that targeted the major purveyors of controlled substances, cannabis and other illegal contraband. During his tenure, Director Cunningham was recognized as a consensus builder and one who possessed remarkable leadership attributes. Police chiefs, sheriffs, county prosecutors and the states of Illinois and Iowa formerly commended Director Cunningham for his dedication to duty and the professionalism he continually exhibited.
During his 40-year career, Jim also served as a bicycle officer and as a member of the Moline Police Motorcycle Unit. Jim was known as an officer who made unselfish commitments to Moline, the State of Illinois and the citizens he faithfully served and protected. His quiet resolve and never wavering loyalty to the police department, fellow officers and community was steadfast and served as an example to other first responders.
Peers and superiors alike found Jim always ready, willing and capable. Commanders and colleagues defined him as the consummate police officer. On May 19, 2006, James Cunningham retired from the MPD. His career spanned 40 years in the front lines of law enforcement and service to the community, which placed Officer James Cunningham in very elite company.
Jim was a member of the Moline Police Benevolent, the Fraternal Order of Police, the Moline Police Pension Board, President of the Blue Marlins Swim Team and Faith Lutheran Church in Moline. His family was the rock from which Jim pursued life and following their journeys was always a matter held fast to his heart. Jim also found riding an American-made Harley-Davidson a favorite pastime. The friendships Jim made had no bounds and he was especially close to Gary Hoegner and Kenneth Rexroth.
Jim's survivors include his wife, Wendy; children, Elizabeth and Madelyn Cunningham, both at home, Scott (Julie) Cunningham, Apex, N.C., Kristen (Jim) Ballard, Taylor Ridge, Ill., Lisa (Nick) Boyer, East Moline, and Bill (Amy) Cunningham, San Antonio, Texas; 12 grandchildren; mother and father-in-law, Nancy and Bill Warren; brother-in-law, Shawn Warren; sisters-in-law, Heather Warren and Darcy and Brad Brittenham; and many nieces and nephews. Jim was preceded in death by his grandson, Brandon Ballard; brothers, Billy and Jerry; and a sister, Veda.