Moline High School
Class Of 1962
In Memory
Gary Hanell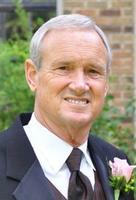 Gary Edward Hanell, 77, of Moline, passed away suddenly on Saturday night, 23 July 2022, at Genesis East in Davenport, Iowa. He had just enjoyed a birthday dinner with his family, who meant everything to him. A private family viewing was held and cremation rights were accorded as were his wishes. Gary was selflessly an organ donor.
The first child of Edward and Marjorie (Hunt) Hanell, he was born on 2 October 1944, at the Moline Public Hospital and attended Moline schools his entire life; Roosevelt Elementary, Coolidge Jr. High and Moline Senior High with the class of 1962. Gary was an Eagle Scout, one of the youngest to ever receive this honor. He was employed at Bostitch/Stanley Company as a top fastener sales representative for 28 years, retiring in 1999.
In late 1964, while at Black Hawk College, Gary met Kelene Milligan, his soul mate. After graduation from Southern Illinois University in Carbondale and a stint in the National Guard, they were married on 13 September 1969, almost 53 years ago.
His love of the outdoors and the river stayed with him his entire life. Over 50 plus years, he owned many boats, his last one being the Cabin Fever. His two sons, Cory and Doug, shared his same love for the river and the family spent so many weekends boating on the Mississippi. These were some of the happiest times of his life.
He took great pride in everything he owned: his home, his boat, his cars and his beautiful lawn to which he gave great attention. But he took the most pride in his sons. If "the boys" were happy, he was happy! He loved them unconditionally as they loved him. His grandchildren were an extra bonus who gave him much joy.
He is survived by his loving wife, Kelene; sons, Cory and Douglas (Kate); grandchildren, Jackson, Tristan, Lucas and Collette; sister, Gloria McClean, all of Moline. He is also survived by many sisters and brothers-in-law, nieces and nephews.
His parents and brother, Dan Hanell, preceded him in death.
Gary, you know you'll be missed forever, our rock, and you are in our hearts as long as we live. Our lives are forever changed without you. We love you.
Wishing you fair winds and calm seas, relaxing pain free with your Bud Light in hand.
Memories may be shared online by visiting esterdahl.com.