Moline High School
Class Of 1962
In Memory
Cheryl Nichols/Sommers (Catlett)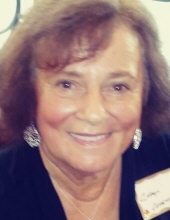 Cheryl Joyce Catlett, age 76, of Janesville, died Friday, April 16, 2021 at SSM Health St. Mary's Janesville Hospital. Cheryl was born on July 29, 1944 in Moline, IL, the daughter of Robert and Dorothy (Madison) Sommers. She grew up in Moline and graduated from high school there. She married Alan B. Catlett on June 12, 1982.
Cheryl was employed as a caregiver most of her life and formerly owned and operated Catlett Country Group Home. She enjoyed dancing but her favorite past-time was spending time with her family.
Cheryl is survived by her husband, Alan Catlett of Janesville; children, Brenda Wheelock of Edgerton, Kenneth (Lisa) Ashmore of Pensacola, FL, Denell Taylor of Janesville, Richard (Eric Knapton) Land of Janesville, Chad (fiancé-Dianna Bracewell) Catlett of Pensacola, FL, and Angie Palmer of Stillman Valley, IL; her brother, Gary Sommers of Janesville; her sister, Sue Leander of Le Claire, IA; and numerous grandchildren, great-grandchildren, nieces and nephews.
Cheryl was preceded in death by her parents; her brother, Roger Nichols of Janesville; her sisters, Carol Ann Barlow of Ft. Myers, FL, Linda Smith of Belle, MO, Lareca Ashby of St. Louis, MO, and Donna Schuler of Belle, MO.
Funeral services will be held at 11 a.m. Tuesday, April 20, 2021 at HENKE-CLARSON FUNERAL HOME, Janesville. Rev. Ray McElroy of Central Christian Church, Beloit will officiate. Entombment will follow in Milton Lawns Memorial Park Mausoleum. Visitation will be from 5 to 7 p.m. Monday, April 19, 2021 and from 10 a.m. until the time of services on Tuesday, April 20th at HENKE-CLARSON FUNERAL HOME.
Henke-Clarson Funeral Home of Janesville is assisting the family. Online condolences can be made at www.henkeclarson.com.
https://www.henkeclarson.com/obituaries/Cheryl-J-Catlett?obId=20811687#/obituaryInfo