Moline High School
Class Of 1962
In Memory
Jack T Pratt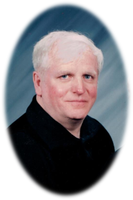 Jack T. Pratt, 69, of Rock Island, passed away Friday, May 2, 2014 at Rock Island Nursing and Rehab Center.

Funeral services will be 11am, Tuesday, May 6, 2014 at Rafferty Funeral Home, 2111-1st St A, Moline with visitation one hour prior to the service. Burial will be at National Cemetery, Rock Island with military honors conducted by the American Legion Post 246, Moline. Memorials can be made to Disabled American Veterans.

Jack was born August 13, 1944 in Rock Island, the son of Howard and Irene (Inman) Pratt. He was a US Navy Veteran having served during the Vietnam War. He married Pamela Holt on July 7, 1987 in Moline.

Jack was the former owner and operator of Pratt Olson Manufacturing, Moline. He was an avid ice fisherman and enjoyed woodworking.

Survivors include his wife, Pamela; brother, Bill (Marsha) Pratt, Rock Island; niece, Theresa (Jon Yancy) Trice, Rock Island and a nephew, Marty (Jennifer) Pratt, Anamosa, IA.