Moline High School
Class Of 1962
In Memory
Stephen F Simmon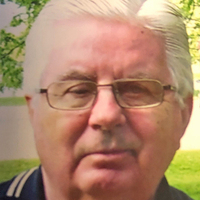 Stephen Simmon of Rock Island, IL, passed away Friday, May 8th, 2020, at age 75. He was born on May 22, 1944, to Harrison and Alma Simmon.
Steve graduated from Moline High School and then earned his bachelors degree in business from Augustana College. Over the years, he worked in retail management for Turnstyle/Venture, and then worked for Ralston Purina up until the mid-90s when he started working as a real estate agent. He was very well known as "The Sweater Guy" in his career as a realtor.
Ever since he was a boy, he had a passion for sales. He very much enjoyed finding good deals and garage sale treasures. He also loved being outdoors. Camping, fishing, hiking, and boating were some of his favorite things to do. He took pride in gardening in his yard, and loved a good bonfire.
He enjoyed raising his son and daughter, and spending time with his three grandchildren. He took such pride in all of their achievements and was always there to cheer them on in all of their sports and activities. He was a loving and compassionate person that will be missed by many.
Survivors include his daughter, Amanda (Oscar) Herrera of Rock Island; son, Stephen Simmon Jr. (Bree Bedford-Brown) of Burlington WI; grandchildren, Marissa, Caleb, and Drake of Rock Island; brother, H.B. Simmon (Sue Lent) of Rock Island; sister, Penny (Jeff) Quick of Moline; nephews, Chris (Merideth) Quick of Paletine Il, and Chad Quick of Moline; and many other family and friends.
He was preceded in death by his parents, Harrison and Alma Simmon, and his dear friend, Kate Odean.