Moline High School
Class Of 1962
Deceased Classmates & Guests
Cynthia Sue Stahl (Kumlin) VIEW PROFILE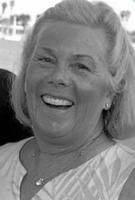 January 25, 1944—October 31, 2023
Cynthia Sue Kumlin, a resident of Del Mar, California for the past 27 years, passed away peacefully at her home surrounded by her family on October 31, 2023. she was 79.
Sue was born in Laredo, Texas on January 25, 1944, on the army air corps base to nana and Bob Stahl. after the war, her family relocated to Moline, Illinois, where Sue was a happy child of the 1950s, with lots of 45 RPM records, some saddle shoes and a poodle skirt. she graduated from Moline High School with the class of 1962 and went on to Northwestern University where she obtained a dental hygienist degree.
It was as shortly thereafter that she met Richard Kumlin when he came into the dental office to have his teeth cleaned. Sue was beautiful, vivacious, smiling and full of fun. He asked her to get married on their third date! They were a perfect match which was later proven by their 55 years of marriage. Sue and Richard enjoyed their life together to the fullest. Their many adventures included visiting Africa, countless scuba diving trips, frequent road trips to their summer home in Michigan with their dogs and kids, and fun family ski trips. They loved to entertain and always had a full social calendar.
Sue was always a loving and devoted wife to Richard and she thrived on being the very best mother to her children, Christopher and KC. Nothing was more important to her than her husband and two children. She spent endless time helping, teaching, coaching and playing with her kids.
In 1996, after a busy and rewarding life in Winnetka, Illinois, Richard retired from his law practice and he and Sue moved to Del Mar, California. They were drawn to the year-round warm weather and looked forward to another adventure together.
In June of 2003, Susan experienced a stroke that very nearly took her life. Her rehabilitation took months and she was left with some permanent physical deficits on her left side. But she was dauntless. and she still had her genuine love of life, her quick wit and her warm smile. She willed herself to continue her active life, learning adaptive golf, doing water aerobics, riding her special 3-wheel bike, kayaking with her family and generally refusing to accept that she had any limitations. This was made possible by Richard's unconditional love, support and encouragement along with Susan's indomitable spirit.
In addition to her cherished husband, Richard, she is survived by her daughter, KC Chambers (Garth) of Lake Geneva, Wisconsin; her son, Chris Kumlin of Vista, California; her brother, Nick Stahl (Ann) of Cardiff, California; and her four grandchildren: Tripp and Cade Chambers and Bohan and Brynn Kumlin.
A Celebration of life is being planned for a future date.
Click here to see Cynthia Sue's last Profile entry.