Moline High School
Class Of 1962
In Memory
William L Truax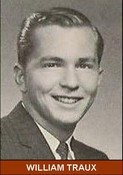 Obituary for William Leon Truax submitted by Classmate Phil Nissen
Corpus Christi, TX

William Leon Truax went to meet his maker on November 6, 2010. He was born on August 24, 1944 in San Diego, California, to Robert Leon and Phyllis Baird Truax.

Bill graduated from Moline Senior High School in Moline, Illinois; he earned a bachelor's of science from Parson College and also earned his Master's of Science from The Northern University of Illinois.

He retired after teaching the 6th grade for over 34 years at Pleasant Lane Elementary School in Lombard, Illinois while serving as President and Chief Negotiator of Lombard Education Association. Mr. Truax was instrumental in passing The Collective Bargaining Bill of Illinois in the fall of 1981. His passion was running and ran a total of six different Marathons.

He is survived by his wife of three years Guadalupe Garza Truax, stepson James Joshua Garza, stepdaughter Raven Garza, three step grandchildren and numerous friends and Colleague. A memorial service will be held at Sea early this spring.