Moline High School
Class Of 1962
In Memory
N Jeffery Lundeen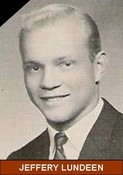 Namo Jeffery Lundeen, 51, Mountain View, Calif., formerly of Moline, died Thursday, Feb. 15, 1996, in California. Services were held Feb. 20 at Spangler Mortuaries, Los Altos, Calif. Memorials can be made to the American Heart Association 1 Almaden Blvd. Suite 500, San Jose, Calif. 95113.
He graduated in 1962 from Moline High School where he was involved in many school activities. In high school, he was a fullback and linebacker, receiving all-state honors in 1961. He was a member of the 1960 and 1961 track teams, which won the state track championship in 1960. He was a shot putter on those teams and his school record of 62 feet still stands.
He was employed as a salesman at Consilium, Inc., in California.
Survivors include a daughter, Jennifer Lundeen, a son, Namo MacArthur Lundeen, both of Santa Rosa, Calif.; and a sister, Connie Schimbor, Houston, Texas.