Moline High School
Class Of 1962
In Memory
Michael L Block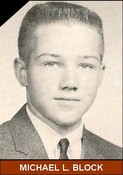 From the 26 September 1983 Dispatch:
Michael L. Block
Michael L. Block, 39, of Rogers, Ark., formerly of Moline, died Saturday [24 September 1983] after an extended illness.
Services will be 10 a.m. Wednesday at St. Vincent De Paul Catholic Church in Rogers. Burial will be in Rogers.
Visitation is 2 to 9 p.m. Tuesday at Burns Funeral Home, Rogers.
Mr. Block was born in Moline. He married Georgia Fuller April 8, 1967 in Moline.
He was a member of the church and had formed a handicapped association in his name in Rogers.
Survivors include his widow; a daughter, Tiffany, and two sons, Michael Jr. and Christopher, all ata home; his parents, Mr. and Mrs. Conrad S. Block, of Rogers, formerly of Moline, two sisters, Mrs. James Aubry and Mrs. Gary Wilson, both of East Moline, and three brothers, Conrad D., Conlona, David P., Rock Island, and Phillip M., of Westmont.
A memorial has been established in his name for his three children.