Moline High School
Class Of 1962
In Memory
William R Bockewitz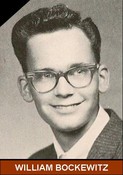 From the 6 September 1990 Dispatch:
William Bockewitz
Services for William R. Bockewitz, 46, 627 5th Ave. Drive, Andalusia, are 9:30 a.m. Friday at Trimble Funeral Home, Moline, and 10 a.m. at St. Patrick's Catholic Church, Andalusia, where he was a member. Burial is in National Cemetery, [Rock Island] Arsenal Island.
Visitation is 3 to 5 and 7 to 9 p.m. today at the funeral home, with a wake service at 8:30. Memorials may be made to Illinois Heart Association.
Mr. Bockewitz died Tuesday [4 September 1990] at Franciscan Medical Center, Rock Island.
He was born Sept. 10, 1943, in Moline.
He was parts manager at Key Buick, Moline, and prevously had worked at Doug Bemis Chevrolet/Oldsmobile and Ron Buysee Dodge, Davenport.
He was a member of Moline American Legion Post 246.
He was a Vietnam Air Force Veteran.
He enjoyed woodworking.
Survivors include a daughter, Chrisine E. Green, San Diego, Calif.; a son, William J. Bockewitz, Austin, Texas; a grandson, Joseph Green, Sand Diego; his mother, Helen Bockewitz, Moline; a sister, Barbara Coborn, Moline; a brother, Robert Bockewitz, in Florida; and a special friend, Vicki Adams, Davenport.