Moline High School
Class Of 1962
In Memory
James D Calzia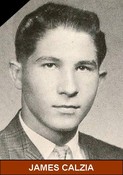 From the 26 March 2003 Dispatch:
Dave Calzia
Dave Calzia, 59, of Brighton, Colo., died Friday, March 21, 2003, in Denver, Colo., of a heart attack.
Services were held March 25, at Tabor Funeral Home, Brighton. Burial was in Highland Cemetery, Northglenn, Colo. Memorials may be made to a charity of choice.
He was born Feb. 1, 1944, in Florence, Ariz., to James and Jewell Westerlund Calzia. He graduated from Moline High School in 1962. He received his B.A. at Augustana College, Rock Island.
He married Pam Miller Dec. 26, 1966, in Bettendorf. He moved to Colorado in 1967 and to the Brighton area in 1968.
He had worked for G.M. in Denver since 1967.
He loved cars, collecting them and renovating them. Dave took pride in his work. He also loved hiking, being in the mountains and running. He ran the Boulder-Boulder many years. He was always healthy and overcame injuries from an accident in which he was told he would only be able to walk with a cane. Dave built, from the ground up, the house they lived in.
Survivors (and spouses) include his wife, Brighton; sons, Robert Calzia, Aurora, Colo.; Brian (Sara) Calzia, Ft. Lupton, Colo.; mother, Jewell Calzia, Brighton; brother, Mark (Val) Calzia, Moline; sister, Patty (Porter) Murphy, Sterling Heights, Mich.; and granddaughter, Emily Calzia