Moline High School
Class Of 1962
In Memory
Bonnie J Campbell (Duewel)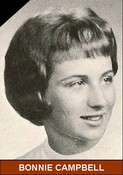 From the Streator Times-Press, Streator, IL:
Bonnie Duewel
1944-1992
Bonnie J. Duewel, 48, of 209 Ponderosa Drive, died at 1:55 p.m. Wednesday, Oct. 21, 1992, at St. Mary's Hospital, following a long illness.
Memorial services will be held at 11 a.m. Saturday at Hagi-Winterrowd Funeral Home. The Rev. Chester Boynton will officiate.
Visitation will be two hours prior to the services Saturday at the funeral home.
Born Aug. 3, 1944, in Waterloo, Iowa, she was the daughter of Howard and Viola (Veum) Campbell. She married Dennis Duewel on Nov. 24, 1967, in Rock Island. He survives.
Also surviving are daughters, Arron Lynn Duewel, a student at Illinois State University, Normal, and Paige Kathleen Duewel, a student at Southern Illiniois University, Carbondale; her parents of Dubuque, Iowa, a sister, Laurel (Mrs. Ron) Lawson, of Galena; and a nephew.
She was preceded in death by her maternal and paternal grandparents.
A Streator resident the past 18 years, she was a substitute teacher for Streator Elementary District #45 and was employed as a full-time special education teacher at Woodland School Dist. #5 from 1990-91. She was also formerly employed by The Times-Press. She was affiliated with Park Presbyterian Church.
Memorials may be directed to School Dist. #44 board of education; Arron Duewel College Education Fund, Paige DuewelCollege Education Fund or to St. Mary's Hospital Cancer Treatment Center.