Moline High School
Class Of 1962
In Memory
Garth Capella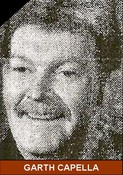 Colin Garth Capella, 51, 201 8th St., Silvis, died Monday, Sept. 25, 1995, at Trinity Medical Center, East Campus, Moline. Services are 10:30 a.m. Friday at Schroder Mortuary, Silvis. The body will be cremated. Visitation is 3 to 5 and 7 to 9 p.m. Thursday, with a service conducted by the Fraternal Order of Eagles at 7.
Mr. Capella was born Oct. 27, 1943 in Montebella, Quebec, Canada, the son of Arthur and Cecilia Hutchison Capella. He married Sue DeBaillie June 17, 1983 in Silvis.
He was employed as a courier at Illini Laboratory, Silvis. He previously was a hydraulic assembler at Moline Body Co.
He was a member of Silvis Fraternal Order of Eagles 1839. He enjoyed NASCAR racing, collecting model cars and showing his Dalmatian and German short-hair dogs.
Survivors include the widow; his father, Moline; a sister, Diana Lentz, Moline; his father-in-law and mother-in-law, Richard and Joanne DeBaillie, Silvis; and nieces and nephews.