Moline High School
Class Of 1962
In Memory
Cheryl A Hamm (DeCloedt)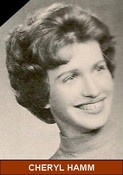 From the 16 July 1995 Dispatch:
Cheryl DeCloedt
Cheryl A. DeCloedt, 51, of 814 17th Street, Rock Island, died Friday, July 14, 1998, at Trinity Medical Center, East Campus, Moline.
Services are 1 p.m. Tuesday at Esterdahl Mortuary Ltd., Moline. Burial is in Grennview Memorial Gardens, East Moline.
Visitation is 11 a.m. to service time. Memorials may be made to the Robert Young Community Support Center at Trinity Medical Center, West Campus, Rock Island.
The former Cheryl Hamm was born May 13, 1944, in Moline, the daughter of Arthur and Carrie Strauss Hamm. She married William DeCloedt Oct. 19, 1966, in Moline.
She was a member of First Christian Church, Moline.
Survivors include sons, Derek W. DeCloedt, Rockledge, Fla., and Schott D. DeCloedt, Fairborn, Ohio; and sisters, Zeraellen Krambeck and Ramona Mix, both of Moline.