Moline High School
Class Of 1962
In Memory
Michael Hillyer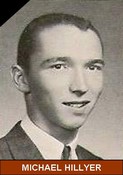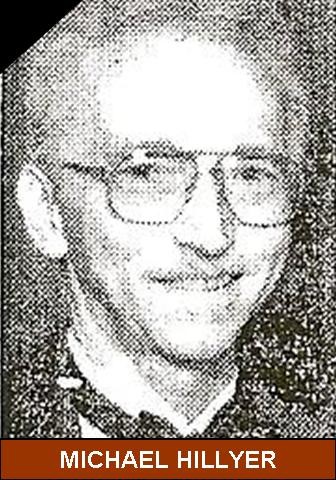 Michael E. Hillyer, 53, of 2645 145th Ave., Sherrard, died Wednesday, Dec. 17, 1997, at TrinityMedicalCenter, West Campus, Rock Island. Funeral services will be 9:30 a.m. Saturday at Sacred Heart Catholic Church, Moline, 9 a.m. prayers will be at Esterdahl Mortuary Ltd., Moline. Burial will be at MolineMemorial Park. Visitation will be Friday 4 to 8 p.m. There will be a Wake service at 6:30 p.m. on Friday. Memorials may be made to the American Cancer Society or CCFA.
Michael was born April 1, 1944, in Moline, the son of Essmon and Lucille Hindbaugh Hillyer. He Married Linda Carlson May 7, 1983, in Moline. He had been employed at the Headquarters, I.O.C. Rock Island Arsenal as an industrial specialist for the past 13 years. Previously he was a quality control supervisor with McLaughlin Body Co., for 18 years.
He was a Navy veteran during the Cuban Crisis. He enjoyed remodeling houses and landscaping. He enjoyed his dogs and they were as devoted to him as he was to them. He particularly loved his family especially his grandchildren.
Survivors include his wife, Linda; daughters and sons-in-law, Diana and Terry Zgagay, The Woodlands, Texas, and Tammy and Ron Kendall, Tampa, Fla.; sons and daughter-in-law, Chad and Kammie Hillyer, Bettendorf, and Jason Hillyer, Moline; grandchildren, Taelar and Anthony Reid Hillyer, Bettendorf, and Austin and Ariana Zgabay, The Woodlands; sisters and brothers-in-law, Cyd and Dr. Craig Humphreys, Milan, and Beverly and James Howard, Denver, Colo.; and brothers and sisters-in-law, Kent and Claudia Hillyer and Chris and Donna Hillyer, all of Moline. He was preceded by a son, Tony.