Moline High School
Class Of 1962
In Memory
Louis R Kerofsky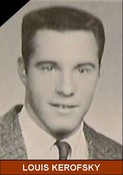 From the 1 October 2006 Dispatch:
Louis Kerofsky
Louis "Lou" Robert Kerofsky, 62, of Tempe, Ariz., beloved husband, father, grandfather, brother and dear friend to many passed away Monday, Sept. 25, 2006.
Visitation and rosary will be from 4 to 6 p.m. today, at Carr-Tenney Mortuary, 2621 S. Rural Road, Tempe. The funeral Mass will be celebrated 10 a.m. Monday, Oct. 2, at Our Lady of Mount Carmel, 2121 S. Rural Road, Tempe. Remembrances may be made to ARC of Rock Island County.
Lou was born Sept. 12, 1944, in Rock Island, to Louis and Jessie Marchello Kerofsky. He married April Anderson on Dec. 31, 1966, in Moline. He graduated from Moline High School in 1962. He attended Texas A & I University in Kingsville and graduated from Black Hawk College in Moline in 1966.
He worked in industrial sales in Illinois until 1983, when he purchased Neu's Pool Service and Supply and moved to Arizona. In 1995, he founded L.R. Kerofsky, Inc., a wholesale distribution company of laboratory and material test equipment.
He will be deeply missed for his great sense of humor and witty one-liners. Lou loved to camp and enjoyed the great western outdoors and night skies.
Lou is survived by his loving wife, April; his son, Dr. Louis J. (Carren) Kerofsky, Camas, Wash.; and daughters, Kerry (Kevin) Camberg and Katherine (Shawn) Wilson, both of Tempe; sisters, Marie Kucharo and Patty Kerofsky, both of Moline, and Cindy Kallman, Denver, Colo.; and grandchildren, Katherine and Joshua Camberg and Claire Kerofsky.
Visitation and Rosary were at Carr-Tenney Mortuary, Tempe AZ on October 1, 2006. A funeral Mass was celebrated at Our Lady of Mount Carmel in Tempe on October 2, 2006.
Rememberances were requested to be made to ARC of Rock Island County, Illinois.