Moline High School
Class Of 1962
In Memory
Sharon L Larson (Marshall)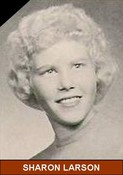 From the 29 May 1992 Dispatch:
Sharon Larson Marshall
Services for Sharon L. Larson Marshall, 47, of 1901 30th Street, Moline, are 10 a.m. Saturday at Faith Walk Christian Center, East Moline, where she was a member. Burial is Moline Memorial Park Cemetery.
Visitation is 6 to 9 tonight at Esterdahl Mortuary, Ltd., Moline. Memorials may be made to the church.
Mrs. Marshall died Wednesday, May 27, 1992, at home.
The former Sharon Larson was born Nov. 21, 1944, in Moline, the daughter of Capt. Charlie and Maxine Decker Larson. She married Thomas F. Marshall Aug 28, 1965, in Moline.
She served a Visitation Ministry for the church.
She taught Sunday School and was a member of the choir at church. She was a past worthy advisor with the Moline Rainbow Girls.
She enjoyed music, The Bible and gardening.
Survivors include daughters and a son-in-law, Larua Doyle, Erie, and Marilyn and Daniel Six, Joplin, Mo.; a graddaughter, Stephanie Six, Jopline; a grandson, Nathan Dlyle, Erie; and sisters, Marti McClaren, Atoka, Tennl, and Nancy Kallaus, in Tennesse.