Moline High School
Class Of 1962
In Memory
Michaelle A Moon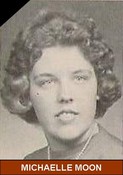 From the 15 March 2007 Dispatch:
Michaelle Moon
Michaelle Moon, 62, of Davenport, passed away Wednesday, March 14, 2007, at Meadowlawn Nursing Center, Davenport.
Services will be 11:30 a.m. Friday, March 16, at Pine Hill Chapel, Davenport. Burial will be in Pine Hill Cemetery. Runge Mortuary and Crematory, Davenport, is in charge of arrangements.