Moline High School
Class Of 1962
In Memory
Dianna R Moore (Evans)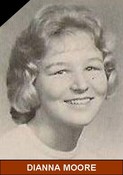 From the 11 March 1991 Dispatch:
Diana Moore Evans
Services for Diana Moore Evans, 46 of 610 Anderson Ave., Cliffside Park, New Jersey, formerly of Moline, are 1:30 p.m. Wednesday at Trimble Funeral Home, Moline. Burial is in Greenview Memorial Gardens, Silvis.
Visitation is 4 to 8 p.m. Tuesday. Memorials may be made to the First Lutheran Church, Moline, or Christian Friendliness Association.
Mrs. Evans died Friday [8 March 1991] at Bellvue Hospital, New York City, after collapsing aat her health club on Wednesday.
The former Diana Moore was born Sept. 4, 1944, in Moline.
She graduated from Moline High School and St. Ambrose University, Davenport.
She was director of personnel for Sulzer Bros., New York City, where she had worked for the past three years. She had previously worked for Deere & Co. in Moline, Dubuque, and Denver for many years. She had earlier worked for First Federal Savings and Loan, Moline.
She was confirmed in First Lutheran Church, Moline; had been active in the Big Sister program and in helping the needy in the various cities where she had lived.
Survivors include her mother and stepfather, Dorothy and Lewis Griem, Moline; her father, Dennis Moore, Davenport; a sister and brother-in-law, Donna and James Brostrom, Waukesha, Wis.; a niece, Valerie Brostrom, Waukesha; aunts and uncles Harold and Ruth Thorngren, Elenor and Russell Olson and Marjorie and John Graflund, all of Moline; and a special friend, Carl Brown of New Jersey.