Moline High School
Class Of 1962
In Memory
Karen J Olson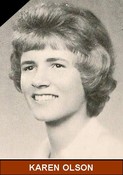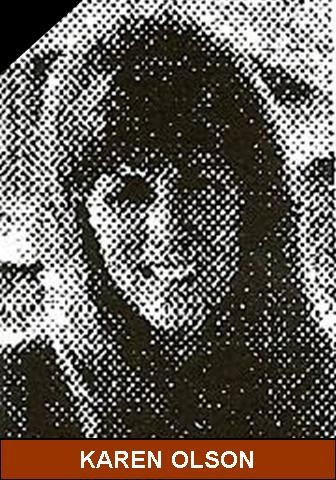 From "Deaths and Funerals" in the (Moline) Daily Dispatch of 16 October 1974:
Miss Karen Jeanne Olson
Memorial services for Karen Jeanne Olson, 30, daughter of Mrs. Helen Olson of 2602 16th St., Moline, who died in a plane crash at Pine Valley, Utah, Oct. 3, will be at 4 p.m. Oct. 26, in the Church of Jesus Christ of Latter Day Saints, East Moline.
Memorials may be made to the Humane Society, Chino, Calif.
Karen Olson was born in Moline. She graduated from Moline High School (C '62) and attended Augustana College. She finished her education in Europe, graduating from the University of Heidleberg, Germany. Prior to her death, she had been teaching in a junior high school in Pomona, Calif.
Surviving are her mother; a sister, Mrs. John Abbott of Logan, Utah; and three brothers, Arvid R. Olson of Arlington Heights, Ronald C. Olson of Moline and Charles V. Olson of Belvidere.
She was preceded in death by her father, Raymond V. Olson.