Moline High School
Class Of 1962
In Memory
Donald L Schlueter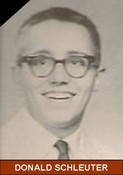 From the 22 December 1987 Dispatch:
Donald Schlueter
Donald Lee Schlueter, 44, St. Louis, Mo., formerly of Moline, died Monday after suffering a heart attack while vacationing in Washington, D.C.
The body will be cremated. Burial is in Belleville, Ill. Services will be held in St. Louis at a later date.
Memorials may be made to the Rock Island County Humane Society.
Mr. Schlueter was born Feb. 8, 1943, in Moline. He married Carrie Duball Sept. 18, 1976, in St. Louis.
He was a commercial photographer.
Survivors include the wido, his parents, Harold and Erma Schlueter, Moline, and aunts, Inez Schlueter, Rock Island, and Mildred Schick, Rock Island.