Moline High School
Class Of 1962
In Memory
Dennis B Spurgeon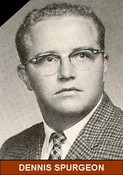 From the 3 July 1982 Dispatch:
Dennis B. Spurgeon
Services for Dennis B. Spurgeon, 37, 413 23rd Aven., Moline, who died [1 July 1982] at Moline Public Thursday night, will be 10 a.m. Monday at Wendt Brothers Funeral Home, Moline.
Pastor John Berghorst, of First United Presbyterian Church of Moline, will officiate. Burial will be in [the] National Cemetery, [Rock Island] Arsenal Island.
Visitation will be 3 to 5, and 7 to 9 p.m. Sunday at the funeral home. Memorials may be made to the First Baptist Church of Moline's hymnal fund or the First Presbyterian Church.
Mr. Spurgeon was born in Rockford. He married Jo H. Aull in April 1978 in Prophetstown.
He was employed at J.I.Case Co., Bettendorf, as a shear operator. He was a member of the Amateur Radio Club of the Quad-Cities and the J.I. Case Golf League.
Survivors include the widow; his mother, Mrs. Ralph Spurgeon, Rock Island; and five children at home, Johnathan, Charley, Tammy Sue, Amanda Jo and Heather.