Moline High School
Class Of 1962
In Memory
Lewis J Stone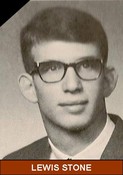 From the 19 February 1970 Dispatch:
Lewis J. Stone
Lewis J. Stone, 24, son of Dr. and Mrs. Alex B. Stone, 3223 29th Ave. Ct., Rock Island, died last night [18 February 1970] in Tucson, Ariz.
Services tentatively are set for 3 tomorrow afternoon in Hodgson Funeral Home, with burial in Mt. Nebo Cemetery, Davenport.
Surviving are the widow, Nannette; his parents, and a sister, Ann Stone in Rock Island.