Moline High School
Class Of 1962
In Memory
M William Witherspoon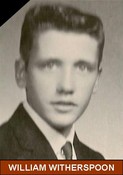 This was sent to fellow MHS classmate, Karen Lootens (Chantry) from Kirk Witherspoon who is also a forensic psychologist and the younger brother of Bill Witherspoon.

DEATH NOTICE

Marione William Witherspoon, Jr., born 5/30/1944, died 10/14/1978 when struck as a pedestrian by a car in rural Andalusia, IL. He had stepped off a hayrack that had a flat tire and, with four others, was hit by a passing car. He and two others were killed.

He had achieved the rank of 1st Lt in the National Guard and was nearly accepted to West Point, but for having applied at slightly too late an age. He had earned a B.S. in Chemistry from Augustana College in Rock Island. He worked as a phlebotomist for Moline Public Hospital and as a chemist for the City of Moline water works. He aspired to attend graduate school, but was working to support two young sons, born too soon. He was divorced. His children survive him. He enjoyed snow skiing, learning, and spending time with his kids.