Moline High School
Class Of 1962
In Memory
Charlotte A Whitman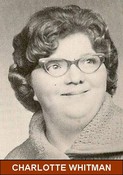 Charlotte's passing is confirmed by a note made in her mother's obituary from The Dispatch, February 2007. We are unable to find Charlotte's obituary and death certificates are only give next of kin or legally disignated personnel.
Charlene Shirron (Charlotte's Mother)
Charlene R. Shirron, 79, of Coal Valley, died Monday, Jan. 15, 2007, in Arkadelphia, Ark., of a massive heart attack.
Burial was in Sparkman, Ark.
Charlene Kinser was born Oct. 30, 1927, in Sparkman, the daughter of Charlie and Annie Mary Deaton-Kinser-Launius. She married Robert Shirron in Arkansas on May 5, 1955. They later moved their family to Coal Valley.
Charlene worked for many years in the offices downtown, and later as a mail carrier. She enjoyed fishing and camping with her grandchildren and great-grandchildren.
Survivors include her husband, Robert; daughter, Sherri (David) DeBaillie; grandsons, Andy (Lisa) and Joe (Sara) DeBaillie; granddaughter, Amber (Bill) DeBaillie; and four great-grandchildren, Laura and Bobby DeBaillie, and Marley and Addison DeVoss. She was preceded in death by her parents; daughter, Charlotte Whitman; and two brothers, Charles Kinser and Bill Launius.