Moline High School
Class Of 1962
In Memory
Richard M Moritz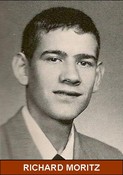 Richard M. Moritz
November 06, 1942 - July 29, 2013
of East Moline, IL, formerly of Galesburg, IL
Visitation: 4:00 p.m. to 7:00 p.m. Wednesday, July 31, 2013 at Wheelan-Pressly Funeral Home, 3030 - 7th Ave., Rock Island, IL
Richard M. Moritz, 70, of Galesburg, IL, formerly of East Moline and Moline, passed away Monday July 29, 2013 at Marigold Nursing Center, Galesburg.

Visitation will be 4:00 p.m. to 7:00 p.m. Wednesday at Wheelan-Pressly Funeral Home, 3030 – 7th Ave., Rock Island. No other services are planned. Inurnment will be at a later date.

Richard was born November 6, 1942, in Moline, IL, one of seven children born to Leo and Nina (Jacobs) Moritz.

He was a Moline High School graduate, Class of 1962, and was employed for many years with McKay's Plating Co. in Hampton, IL.

Those left behind to cherish his memory, include five sons and five daughters, several grandchildren, one brother, and numerous nieces, nephews, and other relatives.