Moline High School
Class Of 1962
In Memory
Barbara Webb (McDowell)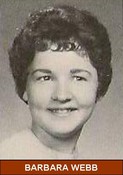 From the 26 January 2012 Inyo Register, Inyo County, California:
Barbara Jean Webb McDowell 68 years young, went to fly with the Angels in Heaven on Jan. 15, 2012.
Barbara was born in Moline, Ill. on Dec. 19, 1943, one of seven brothers and sisters of Keith and Audrey Webb. She spent her childhood years growing up in Illinois graduating from Moline Senior High School.

She moved to California in 1964 and worked as a CNA for many years in a local hospital. Barbara had a passion for helping others and went on to care for the elderly in a convalescent home where she enjoyed listening to wonderful life stories of the many friends she made in her time with them.

Barbara loved to spend time watching her favorite soap opera, "Days of Our Lives," and also enjoyed playing Monopoly and Parcheesi with her two sons. She always made big bowls of popcorn and iced tea with lots of sugar, which was her all-time favorite drink!

On Oct. 30, 1989 Barbara married Lester McDowell. Together they lived in Bishop, California where they spent 23 loving years together. She survived a battle with cancer never letting it get the best of her, always keeping her sense of humor, and at times her witty sarcasm! She loved to garden and grow her own veggies. She also enjoyed woodworking, genealogy and loved spending time with her grandchildren and her two Chihuahuas, Boo and Mocha.

Barbara also loved her cowboy movies, one time asking Les to call the cable company and tell them "turn on my cowboy movie channel," but most of all, she loved receiving red roses from her husband Les, who was there for her at all times, caring for her and loving her unconditionally.

"Gramma GiGi," loving wife, mother, grandmother, sister and daughter, is now in Heaven watching over us with loving eyes as she did here on Earth.

Until we meet again, you are always in our hearts …
Barbara is survived by her husband, Lester S. McDowell of Bishop; her two sons, Bill Riley of Murrieta, and Wesley Ste.Marie of Winchester; her brothers, Ken and Jerry; her sisters, Brenda and Judy; and her stepdaughter, Tina Chinzi. She also leaves behind several grandchildren, Brenda, Shane, Chelsey, Alyssa, Ashley, Jonathan, Edward, Evan and Emma.

Memorial Services will be held for Barbara J. McDowell on at 11 a.m. Saturday, Jan. 28 at the Brune Mortuary located at 325 W. Elm St. All are welcome to attend. Pastor Paul Straub will be officiating.