Moline High School
Class Of 1962
In Memory
Michael Wallaert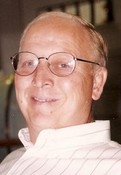 The brother of classmate Mary Wall (nee: Wallaert), Mike Wallaert, recently died. He was a 1964 graduate of MHS and was the first recipiant of the "John Anders Award" at Moline. His obituary from the funeral home:
Michael Henry Wallaert, 64, of Moline, died Wednesday, September 07, 2011 at Trinity Rock Island, after a courageous 16 year battle with prostate cancer.
Funeral services are 10:30 a.m. on Saturday at First Lutheran Church, 1600 20th St., Rock Island. Burial is at Memorial Park Cemetery, Rock Island, where military honors will be presented by the Vietnam Veterans of America Chapter 299. Visitation is 4 to 7 p.m. Friday at Wheelan-Pressly Funeral Home, 3030 7th Ave., Rock Island. Memorials may be made to First Lutheran Church, Rock Island or to Misericordia, 6300 N. Ridge Ave., Chicago, IL 60660, in memory of Mike and Judee's daughter, Elizabeth Rose.
Michael was born on November 7, 1946 at St. Anthony's Hospital, Rock Island, the fourth child of Jule and Edith Pearson Wallaert. He married Judith A. Faur on September 25, 1971 in Rock Island. They were planning on celebrating 40 years of marriage this month.
Mike attended Willard Grade School and John Deere Junior High School, both of Moline. He graduated from Moline High School in 1964, where he lettered in football, wrestling and baseball. He was the first recipient of the John Anders Memorial Award given to an athlete who lettered in three sports. Mike attended Western Illinois University before being drafted into the U.S. Army and serving his country in Vietnam.
He worked for United Airlines for 42 years. Mike was a customer service agent at the Quad City International Airport and later a systems manager at the United corporate offices in Elk Grove Village, Ill. He retired May 1st.
Mike loved to play golf and enjoyed his yearly class of '64 golf outings with friends. He also looked forward to summer vacations in Hayward, Wis., and cherished his wonderful vacations in Hawaii with family. He loved to walk, enjoyed collecting paperweights, but his family was his greatest love. Mike loved family get-togethers and adored his grandchildren and took great pleasure in attending their activities.
He was a lifelong fan of the Moline Maroons, Chicago Cubs, Chicago Bears and Fighting Illini. Mike coached Dad's Club softball and Little League baseball. He was a member of First Lutheran Church, Rock Island, where he had served on the church council, property committee, witness committee and served as a Sunday school teacher.
Survivors include his beloved wife, Judee; daughter and son-in-law, Katie and Patrick Galvin, Coal Valley; son and daughter-in-law, Tom and Jenni Wallaert, Rock Island; grandchildren, Michael and Elizabeth Galvin; brothers, James, Pittsburgh, Pa. and Jerry, Moline; sister and brother-in-law, Mary Ellen and George Wall, Bettendorf; sister-in-law, Suzanne Mitchell, Colona; many nieces, nephews, great nieces and great nephews.
Mike was preceded in death by his parents; infant daughter, Elizabeth Rose; mother-in-law, Eleanor Smyk; brother-in-law, Mark Mitchell; and nephew, John Mitchell. May they rest in peace.
Mike sure fought the good fight. He appreciated all the visits and phone calls from family, friends and co-workers. Mike and his award winning smile will be deeply missed by all who knew him. Thanks for being a part of his life.
Online condolences may be left at www.wheelanpressly.com