Moline High School
Class Of 1962
In Memory
Jack Coder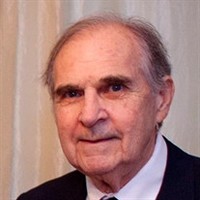 Jack Coder, 87, of Hampton, Illinois, well known Moline High School counselor, died Monday, March 26, 2018, in UnityPoint Health – Trinity Rock Island.

Visitation is 4 to 7 p.m. Wednesday in the Horizon Room at Trimble Funeral Home at Trimble Pointe, 701 12th Street, Moline. Services are 1 p.m. Thursday at the funeral home with burial in Moline Memorial Park. Friends are invited to join the family at a funeral reception at CityView Celebrations at Trimble Pointe following the burial. Memorials may be made to the Hampton Historical Society.

Jack was born July 8, 1930, in Moline, to Harold William and Gertrude Marie (Duncan) Coder. He graduated from United Township High School, East Moline, where he was president of the Senior Class, and from Augustana College in 1952, where he was on the football team. He was in the US Army for two years, serving in Korea, and married Beverly McNeal on December 26, 1954, in Hampton. He completed his master's degree at the University of Iowa and was employed by Moline School District #40 as a guidance counselor at Moline High School for 38 years, retiring in 1991. He was a charter member of the Hampton Historical Society, and a member of Blackhawk Retired Teachers Association. He had a voracious curiosity, and enjoyed history and genealogy.

Jack is survived by his wife of 64 years, Beverly; three children, Christopher McNeal Coder
and his wife Marcelle of Flagstaff, Arizona, Tad W. Coder of Hampton, and Ellie Coder and her husband Daniel Kosminsky of Rapids City, Illinois; seven grandchildren, Hannah Coder, Claire Coder, Katee Coder, Jack B. Coder, Merry Coder and her husband Dr. Kane Keller, Rebecca Kosminsky, and Christopher W. Kosminsky; a great-grandson, Maxwell Correa; a sister-in-law, Mary Jane Nelson of Hampton; and several nieces and nephews. He was preceded in death by siblings, Harold "Bill" Coder, Clifford Coder, and Bette Eggerichs.

Jack's family invites friends to share stories and condolences at TrimbleFuneralHomes.com.