Moline High School
Class Of 1962
In Memory
F. Darrell Goar VIEW PROFILE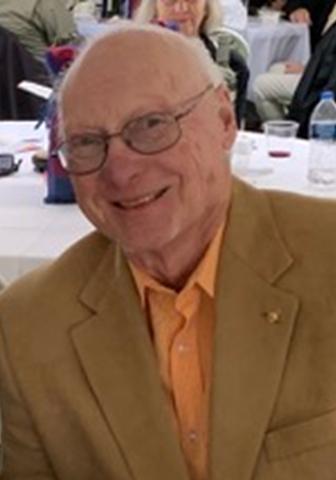 Floyd Darrell Goar
Floyd "Darrell" Goar, 88, of Sierra Vista, AZ passed away peacefully on November 1, 2021. Darrell was born on August 10, 1933 in Moline, IL, to Floyd and Doris (Dahlstedt) Goar. He and his younger brother Duane enjoyed growing up in the Quad-Cities, having fun and making mischief with their many friends. Darrell graduated from Moline High School in the class of 1951. He served in the U.S. Army for two years, stationed at Ft. Bliss, TX.
Darrell held many graduate degrees: St. Ambrose College (now University), BA; Temple University, MS Ed.; Western Illinois University, EdS; and his Ph.D. from Columbia Pacific University in 1981. Darrell was a physics teacher, head of the science department and a dean of students at his alma mater, Moline High School. He was a physics instructor at St. Ambrose College, Knox College, and an adjunct professor at Western Illinois University and at Blackhawk College.
One of his teaching innovations at the high school was the creation of the first all-girls physics class. He believed girls would take a physics course if it was just them. They did, and it was a great success. His signature project at the high school was the T.H.I.S. (Toward Humanization and Individualization of Science) modular course written by multidisciplinary teachers and taught by the science teachers. The science teachers believed if they could make biology, chemistry, and physics relevant to the individual and their passions in work and play, the significance of science in all things would be evident.
Darrell held membership in multiple education and science organizations including serving as the president of the Illinois Science Teachers Association, Rock Island and Scott Counties Science and Math Teachers Association, and the Moline Administrators Association. He was a member of Phi Kappa Delta, and a delegate to many national and international conferences, earning numerous honors over the years. Darrell wrote and was published in education and in physics journals.
In Moline, he was a member of First United Methodist Church (now Riverside UMC) and served in many leadership roles. Darrell was a member of, and served in leadership roles, in Moline Lodge #1014 AF&AM, Scottish Rite Bodies – Valley of Moline, KAABA Shrine, Blackhawk Shrine Club, and Order of the Eastern Star. As a young man in the Order of DeMolay, he was Moline Master Counselor and Illinois State Master Counselor. Honors earned are the Legion of Honor, Chevalier, and the Blue Honor Key. His daughters followed in their parent's Masonic footsteps. He traveled the state with them, and was honored with the Rainbow Grand Cross of Color. In Arizona, he attended Sierra Springs Church.
When Darrell retired, he enjoyed life with his companion of nearly 30 years, Sharon Dietz. He got involved with Sharon's family's interests of quarter horses, bulldogs, roofing and farming. His girls often questioned how he could love barn-work, but he did. He worked at the family business, Roofing Technology, Inc., for a time as well. Wintering in Arizona, he had a cherished group of friends with whom he and Sharon played (at least) weekly card games, traveled extensively, and had fun all the time. Darrell was known for his quick wit and terrible jokes. He never lost his sense of humor.​
Besides his love of teaching to anyone who would listen, he enjoyed keeping up with his girls and their families, reading, computers, classical and country music, golf, fishing, dancing, St. Louis Cardinals baseball, University of Arizona basketball, playing cards and dominoes, travel, astronomy, and games on his phone.
Darrell is survived by his beloved partner Sharon and their bulldog Butch. His daughters, all in the Dallas-Ft Worth Metroplex: Ann Goar, Gail (Robin) Kizer, Nancy (Michael) DuLany, and Stephanie (Scott) Seastrand. His grandchildren Elizabeth (Zach) Dean, Kym (Josh) Tener, Alanna (Aaron) Dearick, Margaret, Laura, Riley, and Jenna Seastrand. His sister-in-law and a niece and two nephews. Darrell is blessed to have known his great-grandchildren, Kinsley and Colson Dean, Trenton and Kayleigh Tener, Holden and Kaisley Dearick. He is also survived by his IL family: Sharon's son Doug (Molly) Zumaris of Hillsdale, IL and their two daughters, Ashley Zumaris and Brook (Cal) Harmon.
Darrell is predeceased by the mother of his girls Sheila, his brother Duane, and his parents.
Much appreciation to the staff at Prestige Assisted Living at Sierra Vista, Via Elegante Assisted Living Sierra Vista Canyons and Casa de la Paz Hospice, all of Sierra Vista. To the members of his Arizona "Frat": your friendship and your care, these last months particularly, was a blessing and will never be forgotten.
A memorial service will take place in Arizona on December 4, 2021, led by Dr. John Evans. A Celebration of Life will be held in Illinois in the late spring of 2022. Interment will be in Moline. Jensen's Sierra Vista Mortuary is in charge of arrangements. (jensensmortuary.com)
Memorial donations may go to Sierra Springs Church, 8487 E Hereford Rd, Hereford, AZ 85615 or to the Shriners Hospitals for Children (shrinerschildrens.org)
"Look at the world around you, it's all physics!" ~ Dr. F. Darrell Goar
Click here to see F. Darrell's last Profile entry.