Moline High School
Class Of 1962
Deceased Classmates & Guests
Kenneth Buel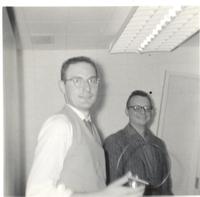 When we were in high school, following the Maroon basketball and football teams, we listened to WQUA radio if we weren't able to go to the games in person. In our day the broadcast team of Ken Buel and Don Handley did the play-by-play and color. Don passed away several years ago and Ken passed away August 31, 2023.
The following is his obituary: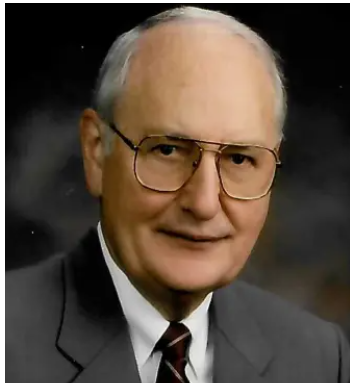 He was born Aug. 22, 1935, in East St. Louis, Ill., the son of Kenneth F. and Madeline J. (Ronchetti) Buel, both deceased. He and Margaret C. Fasnacht were married in Champaign, Sept. 7, 1957.
Ken grew up in Collinsville, Ill., graduating from Collinsville High School in 1953; he received a B.S. degree in broadcast journalism from the University of Illinois in 1957, and was a member of Delta Chi fraternity and Sigma Delta Chi professional journalism fraternity.
Most of his working career was in radio broadcasting starting with a summer job at WTMV in East St. Louis in 1954; he was an announcer with WDWS, Champaign, from 1955-57 while a U.I. student. Upon graduation, Ken joined KBUR in Burlington, Iowa, followed by a move to WQUA Radio in Moline in 1959. Over the next 17 years, he delivered newscasts, broadcast high school football and basketball games, wrote and broadcast editorials, and handled responsibilities as news director and assistant station manager. He was a two-time winner of an Illinois broadcasting award for best editorials. Ken also was heavily involved in community activities serving as speaker, moderator or m.c. for numerous events such as service clubs, high-school sports banquets, a Gov. Dan Walker town meeting, and the opening of I-74 in downtown Moline.
In 1976, Ken was promoted to the corporate staff of Mid America Media, the Kankakee based broadcasting group which owned WQUA plus ten other radio properties and cable television systems in six states. Over the next ten years, he served as assistant corporate secretary, manager of WKAN Radio (1977-80), and vice-president-government relations.
Following his radio years, Ken returned to Moline in 1986 and was marketing director of Moline Public Hospital for two years. He then began work as an income tax preparer, first with H&R Block in Davenport, Iowa, 1988-1990, followed by a move back to his home town of Collinsville where he did tax work for up to 400 clients a year from 1990-2010, first for Teachers Tax Service and then its successor firm, TTS Consulting.
Ken's extensive involvement with Rotary International began when he was asked to join Moline Rotary in 1967. He served as club president there in 1971, as well as leading Kankakee Rotary in 1979 and Collinsville Rotary in 2001. Most recently a member of Champaign Rotary, he had been a Rotarian for 56 years. Ken served as Governor of Rotary District 6460 (western Illinois) in 1997-98. He was a Rotary Foundation Major Donor and had received the organization's Citation for Meritorious Service. The Buels hosted visitors from over a dozen countries in their homes as part of various Rotary programs. Ken attended 16 Rotary International conventions in Asia, Australia, Europe and South America in addition to the U.S. He served as the District 6460 delegate to the R.I. Councils on Legislation in 2007 and 2010. He led a Rotary Group Study Exchange team which spent a month in South Korea in 1994 and represented the president of Rotary International at a district conference in Tucson, Arizona, in 2002. He was a recipient of Rotary International's highest individual recognition, the Service Above
Self award in 2017, as well as the Avenues of Service Citation in 2016 recognizing his activities in Rotary's Five Avenues of Service over the decades.
Ken was involved with other civic groups as well as Rotary. He was a YMCA board member during his years in Moline, Kankakee and Collinsville, and was past president of the Family Y boards in Moline and Collinsville. He served as treasurer while on the board of the Miners Institute Foundation in Collinsville, and was also active with the Collinsville Progress Historic Landmark Committee. He served as vice-president of the Golden Eagle River Museum in St. Louis, and was a member of several river-history and steamboat organizations. Ken and Margaret experienced numerous steamboat trips on the Mississippi, Ohio, Illinois, Cumberland and Tennessee Rivers. In Champaign, Ken served as a member of the Illinois Public Media Community Advisory Committee. In addition to supporting the U.I. Foundation at the President's Council level, he was a member of the Illini Quarterback and Rebounders and was on the board of the women's volleyball booster group, Illini Networkers.
Travel was a major part of Ken's leisure time. He made 17 trips outside the U.S. visiting about 35 countries and all seven continents including adventure trips to Antarctica and Kenya, Africa. On four of those international trips, teenage grandsons accompanied him. He also visited 46 of the fifty U.S. states as well as all 102 Illinois counties.
Ken is survived by his wife Margaret of Savoy; sons Robert (Nancy) Buel, Boulder Hill, Ill.; Allan Buel, LaPorte, Ind.; and daughter Joan (Robert) Tompkins, Antioch, Tenn.; as well as six grandchildren: James (Katie, D.O.) Buel, Westfield, Ind.; Andrew Buel, Boulder Hill; Kevin Bergsmith, Nashville; David (Marie, and her daughter Scarlett Huff) Bergsmith, Goodlettsville, Tenn; and Alicia and Riley Buel, LaPorte; plus three great-grandchildren: Katherine, Joshua and Benjamin Buel, Westfield. He also is survived by a nephew R.W. (Erica) Buel, and two great-nephews, Edmond, Okla.
Memorials are welcome to: The Rotary Foundation or Illinois Public Media.
https://www.morganmemorialhome.com/obituaries/Kenneth-Buel?obId=28889942