Moline High School
Class Of 1962
Michael R Romanowski
I met Mike at John Deere Jr. high school. Mike and I had a situation in Jr. High School, another situation in high school, a different situation at Black Hawk College, and a memory situation after our college days.
I never told Mike this, but one thing I always envied Mike about, was his beautiful had writing! Mike wrote left handed, and he had the most beautiful hand writing I've ever seen! Most people wouldn't think, that a rough and tough football player, could write so elengently! I was also happy to see Mike succeed in his business career. May he (RIP)
I knew Mike in junior high and high school. He was a wonderful athlete. He was a guard at the other end of the line from my high school sweetheart and later husband, Roger. They were tough and talented and added a lot to a great team. Teamwork was the key to success. Mike was a good guy and I'm sorry to hear of his passing.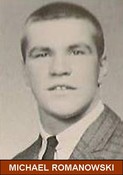 I first encountered Mike in Dad's club baseball, either grade school or jr. high. I remember his teammates calling him "Ski". We always had to back up the outfielders for Mike. We always dreaded his at bats.
On the MHS football team I was the backup center and I usually scrimaged against the first team defense, and Mike played middle defensive guard right in front of me. I can attest that he was one tough SOB to block. Possibibly the strongest guy in our class, certainly pound for pound. Mike was not a real talkative guy and I never got to know him very well, but I sure respected him. He played hard and clean. He was a rock on both offense and defense. And what a great smile.
He was likely one of the best wrestlers in MHS history. A consummate athlete. I also recall that he made a name for himself during the '70's when arm wrestling was momentarily popular nationally. No surprise there. Very sorry to hear of his passing.