Moline High School
Class Of 1962
In Memory
Rita Higginbotham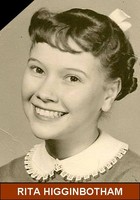 From the 27 March 1964 Dispatch:
MISS MARIETA HIGGINBOTHAM
Miss Marieta I. Higginbotham, 19, of 3507 15th St. A, Moline, died at 8 last night [Thursday, 26 March 1964] in University Hoospitals, Iowa City. She had been in a diabetic coma for two days.
Services will be at 1:30 tomorrow afternoon in the Esterdahl Chapel with the Rev. William S. Mellish, pastor of First Congregational Church, officiating. Burial will be in Riverside Cemetery.
Pallbearers will be George Soethe, Jack Foley, Ronald Faust, William Millard, John Peterson and Charles Ydeen Jr.
Miss Higginbotham was the daughter of Clarence V. and Ethel G. Johnson Higginbotham and was born July 6, 1944, in Davenport. She was graduated from St. Katharine's School, Davenport, in 1962, and was a student at Augustana College. She moved with her family to Moline in 1950, and attended First Congregational Church.
Surviving are her parents, with whom she resided; a sister, Vaughn Lea, Iowa City; an aunt, Miss Irene Johnson, Moline, and an uncle, Raymond Johnson, Urbana.