Moline High School
Class Of 1962
In Memory
Charles T Taylor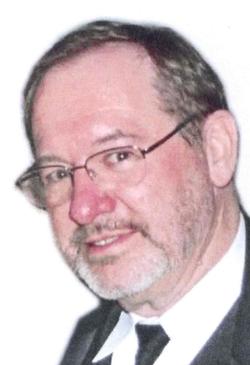 Charles Talbert Taylor
(March 9, 1944 - July 1, 2014)
Charles T. "Chuck" Taylor, 70, of Oelwein, Iowa died on Tuesday afternoon, July 1, 2014 at Unity Point-Allen Hospital in Waterloo, Iowa.
Mass of the Resurrection: 10:00 A.M. Saturday, July 5, 2014 at Sacred Heart Catholic Church, Oelwein with Rev. Paul C. McManus and Deacon Jim Patera officiating. Visitation: 4:00 to 7:30 P.M. on Friday, July 4, 2014 at the Jamison-Schmitz Funeral Home, Oelwein. Military Service: 6:00 P.M. on Friday at the funeral home. Parish Scripture Service: 7:30 P.M. on Friday at the funeral home. Interment: Rock Island National Cemetery, Rock Island, Illinois. In lieu of flowers, memorials may be directed to the family. Online Obituary at: www.jamisonschmitzfuneralhome.com
Charles Talbert Taylor was born on March 9, 1944 in Baraboo, Wisconsin the son of Talbert Tilford & Margaret Aurelia (McDermott) Taylor. He graduated from Moline High School in Moline, Illinois. Chuck received his A.A. Degree from Black Hawk College in Moline and his B.A. Degree from Southern Illinois University in Carbondale, Illinois. Chuck proudly served in the U.S. Army in An Khe, South Vietnam during the Vietnam War. Chuck was united in marriage to Patricia Ellen Silha on April 29, 1972 in Homewood, Illinois. Chuck moved his family to Oelwein 35 years ago. He worked as an engineer at Donaldson Company, Waterloo Industries and several other area firms. He later founded Saluki Plastics in Oelwein. The past five years he served the area communities as a substitute high school teacher. Chuck was a member of Sacred Heart Catholic Church, Oelwein Knights of Columbus, Oelwein American Legion Ross Reid Post #9 and the Oelwein Health Care Coalition. He was formerly the Fayette County Democratic Chairman for five years where he passionately dedicated much of his time to his party's causes. Chuck was an avid Chicago sports fan, fantasy sports fan and a fan of any football team coached by his son, Nick. Chuck was a loving and devoted husband and was completely and totally proud of his sons and grandchildren, they were the lights of his life. Chuck's outgoing caring spirit was evident in his efforts to support the political process and his support of the military and veterans. He was greatly loved by many.
Chuck is survived by his Wife: Pat Taylor of Oelwein; 3 Sons & Grandchildren: Chris (Sara) Taylor and their children, Aiden & Chase, of Poughkeepsie, New York,Matt (Marie) Taylor and their son, Alex, of Huntley, Illinois & Nick (Trace) Taylor and their daughter, Maggie, of Sioux City, Iowa; Sister: Peggy Taylor of Hampshire, Illinois and Many Nieces & Nephews.
Chuck was preceded in death by his parents.