Moline High School
Class Of 1962
Deceased Classmates & Guests
Jack Dye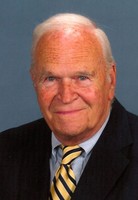 Jack Dye, 86, of Moline, well-known teacher and coach, died Sunday, May 3l, 2015, at Heartland Health Care Center, Moline.
Visitation will be 3 to 8 p.m. Thursday, June 4, in the Horizon Room at Trimble Funeral Home at Trimble Pointe, 701 12th St., Moline. Services to mark a life well-lived will be at 11 a.m. Friday at First Congregational Church in Moline, with the Rev. Craig Jan-McMahon officiating. Interment will follow at Moline Memorial Park. Memorials may be made to the Jack Dye Scholarship Fund at Moline High School.
Jack was born in Rock Island on Oct. l2, 1928, to Frank and Edith Wold Dye. He graduated from Rock Island Public Schools, where he enjoyed a variety of work and athletics. He graduated from Augustana College with a degree in history and education. He worked briefly at IBM, but the classroom called, and he returned to start his teaching career at Roosevelt Military Academy in Aledo, soon to move on to the Moline School District, teaching first at John Deere Junior High and later at Moline High School. He loved coaching basketball, golf and tennis and enjoyed the daily challenge of engaging students in timely discussions about the social sciences. He earned his master's degree in administration from Western Illinois University and served as department head for many years in social studies.
Jack was instrumental in starting the Moline Hall of Honor for Moline graduates and recently earned induction into the Illinois Basketball Coaches Association Hall of Fame. His razor wit and rapid-fire delivery coupled with a near-photographic memory were feared and admired throughout the community.
He met the love of his life, Charlotte Joy Shipley, in 1953, and, after a whirlwind courtship, they married on March 20, 1954, in Moline. He raised three true Moliners and several Boston terriers while maintaining his park-like lawn. Jack also kept busy, as was his habit, by working outside of education as well. He loved the Moline downtown and enjoyed working at Ydeen's Men's Wear, where he would hold court and sell quality suits. Jack did not fully embrace retirement and stayed busy volunteering with the Chamber of Commerce, Rotary and Arrowhead Ranch. He also attended countless athletic events of his grandchildren and kept many Moline athletes supplied with special laminated accounts of their achievements. Jack also served as historian of Wharton Field House and co-authored a book with George Van Vooren on the history of Moline basketball. Jack was a lifelong "Dye-hard" Chicago Cub fan and really believed that this could be their year.
Jack is survived by his children and their spouses, Brad and Joanna Dye, Moline, Jeff Dye and Tammie Newvine-Erskine, Fort Lauderdale, Fla., and Jodi and Mark Zimmerman, Moline; grand-children, Jared and Derek Dye and Jessica and Jenna Zimmerman; brothers-in-law, Gene Shipley and Ron and Lou Shipley, all of Moline; and several nieces and nephews. He was proceeded in death by his lovely wife, Joy, and brothers, William and Donald Dye.
Jack's family extends thanks and appreciation to the staffs at Heartland Health Care Center and the Wound Care Clinic and invites friends to share stories and condolences and light a free candle in his memory at TrimbleFuneralHomes.com.